Laminar Air Flow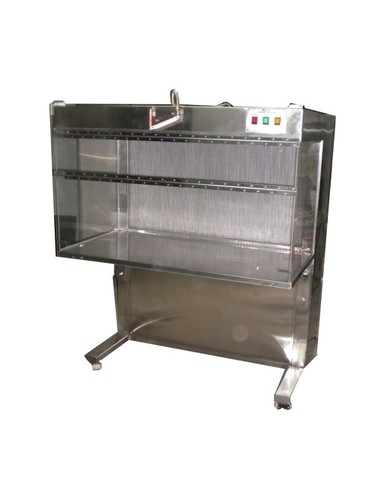 Laminar Air Flow
Product Description
The bench is made of thick plyboard, and reinforced with teak wood where ever necessary. All visible surfaceare laminated with white Decolam Lamination. All interior surfaces are paintedwith air drying Epoxy paint. The filter seat has rubber padding for a perfectrubber to rubber sealing. The panels are made of Perspex sheet duly framed inAnodized Aluminium frame with transparent door. The work table is alsocovered with satin finish stainless steel 304.
All the suction end the unit is provided with washablepre-filters. The pre filters have an efficiency of 90% down to 10 micronparticle size. The pre-filters are provided with expanded metal covers forprotection.
At the Delivery end , the unit is provided with Super airH.E.P.A. Filters, comprising of non woven microfibre glass pleated media. Thepleats are separated by corrugatedaluminium foil separators. Initial pressure drop is less then 25 mm W.G. atrated flow D.O.P. efficiency is better then 99.97% down to 0.3 microns particlesize. The H.E.P.A. filters are protected by a plastic grill.
The Blower assemblyconsists of a H.P. Electric Motor of American Universal or equivalent make,and balanced blowers. The entire Blower assemble is mounted on a frame therebyensuring that no noise or vibrations are generated.
The unit is illuminated byFluorescent tube lights and U.V. light. Fitted with staticpressure manometor (acrylic body) and cock for gas. Designed to providea work area confirming to class 100 of revised US Federal standards 209E